Monica Viviani attended SIDE Primary for Years 1-3 from 2002 to 2004. Her father was a metallurgist working in a gold mine called Chatree, which was located in in a small rural town called Taphan Hin in Phichit, four hours by train from Bangkok, the capital city of Thailand.
What did you do after you left SIDE?
After we returned to Australia I went back to my old school, Deanmore Primary. This was a bit of an adjustment since I had been schooled by SIDE and my Mum for three years and had attended Thai school once a week in 2004. It was hard returning to Australia where no-one spoke Thai, and people were very different. There were different social and cultural expectations and ways to behave. In 2005, after being back from Thailand for a year I got my first cat, Peggy. I still love cats and now have another, Ziggy.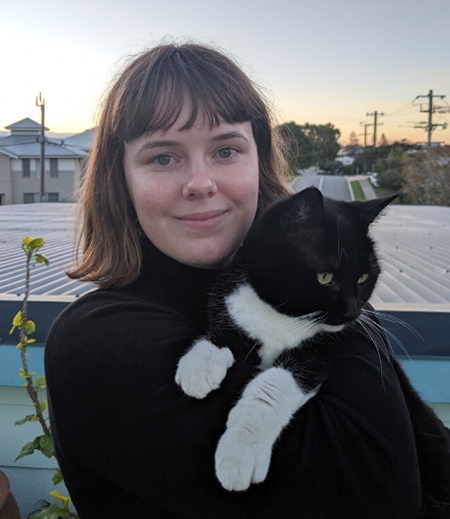 I later attended Churchlands Senior High School where I made lots of great, funny and close friends and developed a lot of passions including politics, writing, photography, drama and media analysis. I was lucky to have a terrific Year 12 English teacher, Miss Boyett who challenged and listened to my ideas.
Throughout primary school and high school my family continued to travel going to places like Cambodia, Burma, India, Laos, back to Thailand, Singapore, Malaysia and Indonesia.
What are you doing now?
After completing my undergraduate degree in Media and Communications, I successfully applied to do the Masters in International Relations at the University of Western Australia. I am now in my last semester of study. I have a particular focus on the role of Australia and the United States within the Indo-Pacific region. I can honestly say that I have found my passion and something that I want to turn into a fulfilling and interesting career. My granny has been a tremendous support and mentor throughout my Masters.
Right now for my Global Political Economy class I am writing an opinion-editorial on why Australia should invest in the education of girls' in the Solomon Islands where only seven percent of girls graduate from secondary school!
How did attending SIDE Primary help you?
Attending SIDE Primary provided me with a different learning format. There was a lot of practical learning which made subjects more fun and interesting. There was rarely a day where we spent the whole school day inside. This type of practical learning helped me learn different ways to tackle problems. I would argue that this is one of the reasons I am such a good problem solver today and it is something I use all the time in my university work.
Growing up in another country has helped me to be more accepting of different people and different cultures. As we constantly see in the media and in politics, there is a narrative of 'us vs them', the 'othering' and ostracising of people who are different to 'us'. In my own experience I have seen how similar people are, and how our differences are actually strengths and are what makes the world interesting.