We were thrilled to have Noongar Wongi hip-hop Artist Flewnt visit SIDE this week to run an exciting online writing workshop.
EAL/D and English students learnt about amplifying cultural messages and experiences through writing and music. Flewnt spoke about the value of sharing cultural and personal experiences and answered student questions about his life as one of Western Australia's most prominent hip-hop artists.
He told students,
"A lot of people want to hear the story and struggle of Aboriginal people, and they want it coming from a very true source, a very real source, and that is from our mouths ourselves. These are our stories, and it's up to us to be able to tell our stories our way."
The highlight of the workshop was a collaboration between Flewnt and students from Pia Wadjarri, Meekatharra, Mount Magnet, Shark Bay, Geraldton, One Arm Point, Dalwallinu, Wongan Hills, Exmouth and Laverton. Together they created a hip-hop song Never Forget which Flewnt performed at the end of the session.
Flewnt also created some short videos in the SIDE studio that will be used in Moodle courses in the future. You can learn more about Flewnt here and find his songs Kya Kyana and Black Boy on YouTube .
We look forward to future collaborations between SIDE and Flewnt!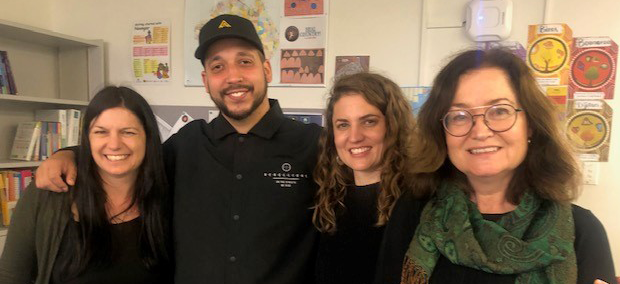 See more photos on @sideschoolwa