SIDE Year 12 ATAR Geography students and teachers had a busy last week of Term 1, including attending a seminar for students across the state and a guest presentation from the Bureau of Meteorology.
Geography Seminar
SIDE hosted the Geographical Association of Western Australia (GAWA) Year 12 ATAR Geography students on Wednesday 31 March in an after school seminar. SIDE has hosted this event for a number of years. It was, however, the first time that the guest speakers on the SIDE site were streamed live via Webex, which enabled students from across the state to access this valuable support to their ATAR courses.
Students attended from SIDE and from schools including Applecross Senior High School, Ballajura Community College, Margaret River Senior High School, Cape Naturaliste College, Aquinas College and Churchlands Senior High School.
The seminar had two sessions, one on climate change and the second on biodiversity loss. In addition, sample exam questions and model answers were covered.
Students and teachers expressed their thanks to GAWA for streaming the seminar to regional areas. Feedback included:
I just wanted to thank you all for the excellent outcome of the Year 12 Student seminar.
I have received a number of positive responses which is highly encouraging. This initiative is valued by teachers and by students.
A Guest Speaker from the Bureau of Meteorology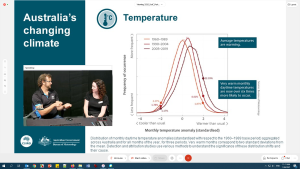 Robert Lawry, a Senior Hydrologist from the Bureau of Meteorology, presented an engaging, informative session on climate change on the last Thursday of the term. Robert's main role at BOM is flood preparedness and response. His presentation discussed the recent State of the Climate Report prepared by BOM and CSIRO. It draws on the latest climate monitoring, science and projection information to describe changes and long-term trends in Australia's climate. This document is one of the key resources students use in this part of the course and his session drew strong praise from attendees.