As part of science students' study of Biology in Term 2, teacher Diana Tomazos invited Stephen Crane from the 'Nearer to Nature' team at the Department of Biodiversity, Conservation and Attractions to SIDE.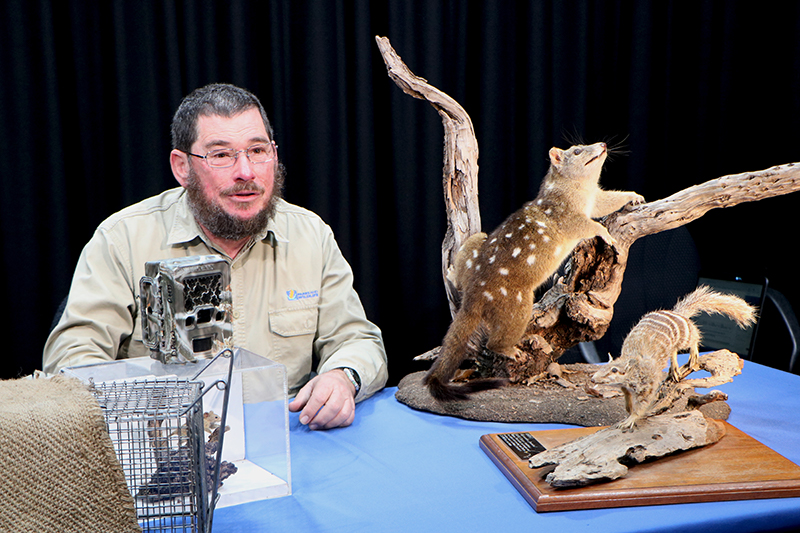 Stephen, who introduced himself as Mr C, did in fact bring students Nearer to Nature through his life-like visual displays of the Chuditch, Numbat and Honey Possum as well as his down-to-earth approach when communicating. Students were in attendance from around Australia and overseas.
Mr C's presentation included information on the Western Shields Endangered Species Program and Monitoring what is going on in your Backyard. Questions and comments from students indicated they were engaged, motivated and curious to find out more. Mr C motivated students to get out with their binoculars. He showed them sample data recording tables they could use when making field notes. Mr C explained that good old fashioned bird watching and listening to the sounds around you are both important ways of observing your environment and vital to monitoring changes over time. Mr C demonstrated two apps to help with the identification of frogs and birds; Frog ID and Bird ID. He also showed his treasured book for identifying Aves, "Field Guide to Birds of Australia", a must-have for every budding Ornithologist.
All students enrolled in science at SIDE will be able to access the recording of the event and associated resources from The Science Lab on Moodle.
Live life to the fullest, know thyself, know thy backyard.
By Diana Tomazos
Science Senior Teacher