SIDE's online "live" teaching and learning platform, Saba Classroom, has been updated. The W.A. Department of Education rolled in the newest version on July 3rd.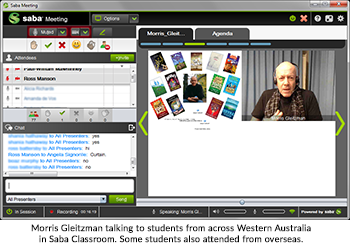 SIDE pioneered the use of this extraordinary online technology in 2004. Saba Classroom includes shared whiteboards and desktops, webcams, audio, and a range of interaction tools. For SIDE, it has revolutionised distance education, marking a move from correspondence learning to an (online) face-to-face classroom. It has since been adopted statewide by the Department of Education.
The new version is completely web-based, and no longer requires download and installation of complicated software. Students navigate to a secure web page, then "click and learn".
SIDE students can find details of using the new Saba Classroom in our Guides and Helpsheets section.