Internationally renowned author talks with our students.
There was great excitement on Thursday 12 June when internationally renowned author Morris Gleitzman and actor Paul-William Mawhinney visited SIDE. Morris and Paul were visiting WA to promote Morris' new book, Loyal Creatures. and took part in an online web-conferencing event, using Saba Classroom. 77 students and teachers from SIDE Leederville and the Schools of the Air attended. Participants were situated across the state and beyond.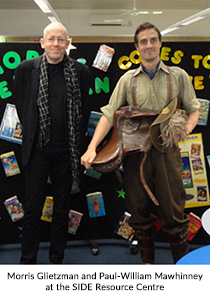 Loyal Creatures was written after Morris was asked to create a performance piece for the National Theatre in London about the horses in World War 1. He did so much research that he developed the performance into a book. Paul performed a very moving monologue in uniform. Morris later spoke about writing the monologue and the book, and answered student questions about his writing.
A student responds
Student Laticia (Year 9) was visiting SIDE on the day and wrote afterwards, "It was very exciting for me to be able to meet Morris Gleitzman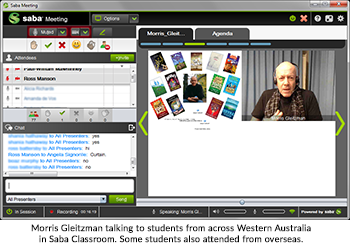 and Paul Mawhinney when they visited. I was so lucky that it coincided with our trip to Perth and that I was able to meet one of my favourite authors and to meet such a talented actor. I was able to get Morris Gleitzman to autograph one of his books which I already owned. Personally the highlights of the online session would have to be the play performed by Paul Mawhinney, which included so much passion and emotion, and the writing tips from Morris Gleitzman. Thank you to everyone who helped organise this event."
SIDE would like to thank all the students and teachers who attended, Morris Gleitzman and Paul-William Mawhinney, and Penguin Books and Westbooks in Victoria Park for making this Authors Online session such a special event.