Continuing our tradition of distinction in teaching and learning, two SIDE teachers have received awards for professional excellence.
Science Head of Learning Area Julie Weber is the national winner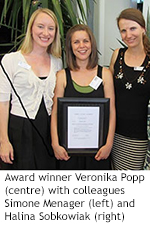 of the BHP Billiton Science Awards for 2013. Julie was one of nine science teachers recognised for outstanding work in science education and the only finalist from WA. An active member of the Science Teachers' Association of Western Australia, Julie is also the chair of the Science Talent Search, a yearly competition that promotes science learning and teaching through creative project work.
Languages teacher Veronika Popp has been awarded the 2013 Teachers' of French Association (TOFA) Marie-Louise Laurent award. The Marie-Louise Laurent award was created in 2000 to honour the legacy of Marie-Louise, a highly esteemed founding member of TOFA, who died of cancer in 1999.
The award recognises Veronika for her outstanding contribution and excellence in teaching French.