Program promotes tolerance and understanding
SIDE students gained access to widely different life experiences as part of the Authors Online program in 2011.
Using Centra, SIDE's web-conferencing platform, students in Year 8, 9 and 10 met with Cheryl Kickett-Taylor to discuss her latest book, Barlay!, while students in Year 11 History met Hetty Verolme, author of The Children's House of Belsen, who described her experiences in surviving the Nazi persecution of the Jews in the Netherlands during World War II.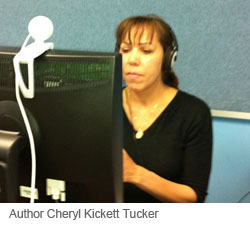 Cheryl has recently written her first book for children as part of the WAARDA series published by Fremantle Press. She described how stories are very important to indigenous Australians, and made suggestions to our students about how to go about writing their own stories. Some of the students who attended the session commented that they learned lots about Noongar language, and how to better plan and write stories.
Hetty, who was 12
years old when her family was taken from their home in Amsterdam, described what had happened to her in the Bergen-Belsen Concentration camp; the separation of children from their parents and the way in which good luck and good will assisted in their survival. Students and staff who attended the session were moved by her descriptions. One student said 'Today was an excellent insight into the life and experiences of a strong and positive woman. I now have a better understanding of the hardships faced by those in the concentration camps', while a staff member commented 'Having read the book, it is amazing how Hetty found the strength to not only survive, but also to look after all those children. Very brave.'
Copies of Cheryl Kickett-Tucker and Hetty Verolme's books are available from the SIDE Resource Centre.