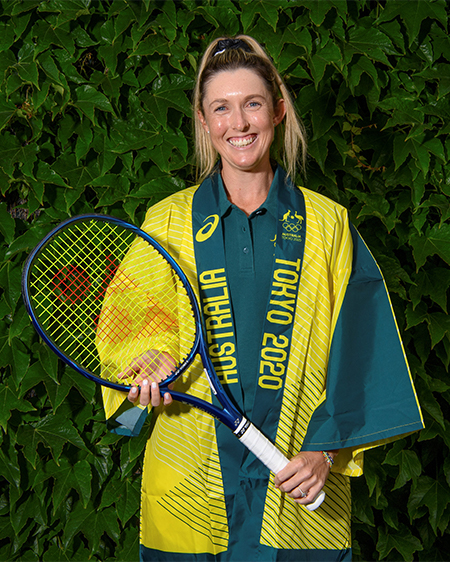 Storm Sanders was born in 1994 in Rockhampton, Queensland. After her family moved to Western Australia, she attended primary school in Rockingham, and began playing tennis at the local courts. She later trained with the National Academy Team at the State Tennis Centre in Burswood.
In 2010 Storm enrolled at the School of Isolated and Distance Education (SIDE) so that she could pursue her professional tennis career. SIDE provided the opportunity for Storm to balance her senior school studies with her tennis training and travel to national and international tennis tournaments. At the end of 2011 she achieved secondary graduation having completed four Year 12 ATAR courses while also competing full-time on the Junior International tennis circuit. After graduating she was offered a tennis scholarship based in Melbourne and has been based there since. While playing full-time on the international circuit she completed her Psychology degree.
Throughout her career she has continued to demonstrate the outstanding qualities she had as a student at SIDE. She is exceptionally well-organised, independent, compassionate, courageous, and resilient. While studying and playing, she gained her coaching qualifications so that she could work with junior players to pass on her knowledge and experience. She continues to mentor younger players; motivating, sharing her story, and inspiring them to chase their dreams.
In 2021 she qualified at a Grand Slam tournament for the first time in her career in the French Open Tennis Championships, advanced to Wimbledon Ladies' doubles semi-finals, and represented Australia at the 2020 Olympics where she partnered with Ash Barty in the doubles. Her performance in 2021 has resulted in career-best rankings in both doubles and singles.