Thinking about entering? It's not too late!
ABC Heywire presenter Katie McAllister ran a storytelling workshop for SIDE's Year 11 and 12 regional, rural and remote students on Webex this term. Katie and the English team at SIDE wanted to encourage students to enter the Heywire Storytelling Competition.
This exciting competition from the ABC calls for stories from high school aged students in regional, rural and remote Australia. Entries must be about an aspect of your life. Stories can be in any format: text, video or audio. The competition aims to give Australians a window into the life and community of young people in rural areas.
Following the workshop many SIDE students entered their personal narratives into the competition. If you haven't yet entered, this is your reminder.
Katie made some suggestions to students during the session.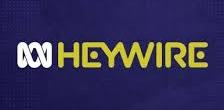 Tips from the Heywire Crew
Tell us a true story – it could be an aspect of your life or something interesting that has happened to you.
Be yourself – use the kind of language you use in conversation every day.
Keep it sharp (400 words or less)
It's all about you.
Writing is a creative way to express who you are.
Story ideas
What are you passionate about?
What makes you or your town unique?
What is a challenge that you have overcome?
What recent event has had a big impact on your life?
If you missed Katie's session, find out more from the Heywire website abc.net.au/heywire/competition
Enter your story before 16th September 2021 for a chance to win an all-expenses paid trip to Canberra!