Alton Walley is a Whadjuck, Wilman, Kaneang Noongar man from South-West Western Australia. He is an accomplished author, dancer, musician and film maker. Above all he is a storyteller.
He presented two amazing sessions to SIDE students last week: an onsite session for 33 Year 9-10 English students in the Theatrette, and a Webex session for 21 Year 3-6 students. Staff also attended both sessions.
Alton began his sessions by talking about the Noongar culture and the importance of stories as a way of sharing knowledge. These stories can be told in various forms: in spoken words, in songs, in music, and more recently, in written forms.
His first session for secondary students was focused on Contemporary Storytelling. Alton discussed his family and schooling background, raising cultural awareness and his writing journey.
He shared some of his writing techniques with the students. Whenever and wherever an idea comes, he records it in simple note form on his phone. Later when the idea progresses, he extends the initial simple idea/observation by mind mapping as he is a very visual learner. Even though Alton is now working professionally and commercially, members of his family and work colleagues continue to assist with rereading, editing and feedback.
The primary session was very interactive with students using their cameras and Webex chat to respond to his questions. Students learned about the Noongar language, the importance of movement, and the sliding didgeridoo.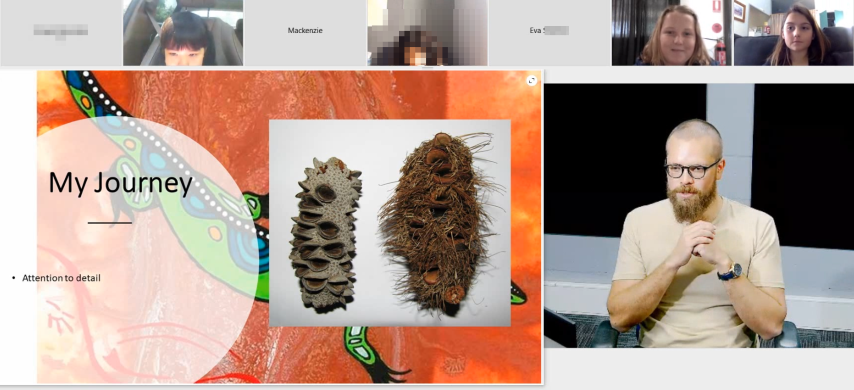 Alton spoke of the influences on his work. His family, including his grandmother, parents and siblings were significant in telling him stories and encouraging him to think in imaginative ways. He also spoke of his education, and his work at Kings Park creating a trail of native flora that could be used in various ways in Noongar culture.
His first book Chunyart and the Cheeky Parrot is set in Kings Park and introduces his readers to Noongar language and culture. Chunyart has always dreamed of the day he would finally be old enough to go hunting with his dad. He has much to learn from his family about the land and its useful plants. With a cheeky parrot for a friend, there is plenty of mischief along the way.
In the Webex session he delighted everyone by demonstrating the specific movements for Australian animals in dance, and then told a story about a kangaroo using the didgeridoo. The Webex text chat panel exploded with comments, as the students expressed their pleasure and appreciation.
It was so cool.
Alton is the best. Thx for the free best concert ever.
Wow!
That was amazing. Thank you so much.
There are no words …