The SIDE Story — A New Era in WA Educational History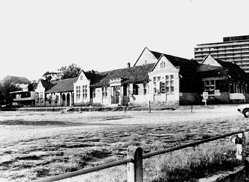 Officially established in September 1918, the WA Correspondence School was two years behind the Victorian correspondence school, although instruction through correspondence to young people who were preparing for teaching careers had already been established in the state since 1903. This made WA "a pioneer in this area" (Gordon Worner, Superintendent of Primary Education).
Prior to 1918, parents of isolated students, who had no means of supporting their children in boarding schools or hiring private tutors, were left to their own devices. It was this very unsatisfactory situation that prompted Mr Robert Sandon, of Marne Near Goomalling in May, 1917, to apply to the Minister of Education asking that a "correspondence branch" be established similar to those operating successfully elsewhere. After the initial rejection, the Director of Education Mr Andrews, recommended the establishment of the correspondence school in WA. The main purpose of the newly established school was to provide education to the 'isolated' and the 'outback' students at primary level.
With the passage of time the courses for post-primary education were established including most of the curriculum subjects available to the city students. Other groups, such as physically disabled children, children whose parents, owing to the transitory nature of their occupation, had no fixed address or those who were temporarily living overseas where schooling was not available, were added to the already diverse 'community' of students enrolled with the correspondence School. There were also students who were over the compulsory age and who had left school but wanted to continue their studies in a few subjects.
By 1926 a new and very important category of students was added to the above mentioned groups, and these were probationers and unclassified teachers preparing for the C Certificate examinations. In 1939 correspondence lessons were made available to disabled children in the metropolitan area. The correspondence lessons were also made available to Aboriginal children in pastoral areas, at Aboriginal Missions without schools and to post-primary Aboriginal students in small country schools.
Our Rural Magazine
The first issue of the magazine was published in May 1926 for the benefit of students enrolled in the Correspondence School. Its main objective was to inform students in the isolated areas of the national, state and world events - "pupils were brought into touch with the outside world and the significance of national events was brought home to them" (Clarence Eakins).
The main contributors to the magazines were Mr Clarence Eakins, the Correspondence School Headmaster, and his staff. One of the early, and much valued, contributors was Mr Miles, the then superintendent of the Correspondence School.
A special topic was introduced each year in each issue. In the 1926 issue, under the heading "Current Events and Recent Happenings", the story
In the 1927 July issue, under the heading, "Interesting Topics From Far And Near", a story "A visit to the Netherlands" focussed on the geography and land use of the country, as well as giving a brief history. It contained not only academic, historical and world events but was enriched by articles concerning gardening, needlework and other practical activities that were of great interest to the outback students and their parents. Cultural aspects, such as poetry and art were also included. Western Australian authors, such as J.K. Ewers and James Pollard made contributions to the magazine. The magazine was also a great forum for the students to display their talents in story and poetry writing.
The magazine was not only popular among the Correspondence School students but was also avidly read and was in a great demand by the state and private schools. Its great popularity may be judged by the fact that by 1935 the circulation of the Rural Magazine reached 10 000. The magazine was published up to 1945 and was discontinued due to the shortage of paper caused by shipping difficulties as a result of World War II. After a few years, when paper was again available, the Department of Education decided to publish WA School Paper, with the result that re-publication of Our Rural Magazine was abandoned. In order to keep the students informed of the school happenings and activities a Quarterly Circular was introduced. This was a much smaller publication which informed pupils about coming events and important dates.
Clarence Eakins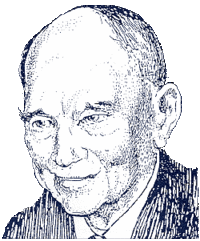 Clarence Eakins was involved with correspondence learning in Western Australia from its inception. He was one of two staff who established the Correspondence School in 1918 and was appointed its first Head Master in May, 1920, the position he held until his retirement 31 years later. Geraldton-born Mr Eakins suffered a riding accident when a teenager which resulted in him having an artificial leg. However, this did not stop his active involvement in many varied activities. As a headmaster in small country schools he showed great ability. So it was no surprise when he was selected to begin the innovative Correspondence School and was later appointed its first Head Master.
During his term as the Head of the Correspondence School many developments occurred. A comprehensive curriculum was developed covering Infants to Junior Certificate and offered to many different categories of students. Radio broadcasts were used for instruction and the school was able to use this medium for special occasions such as end of year concerts. Itinerant teachers were appointed to visit and work with isolated students and any new innovations and philosophies were employed.
Mr Eakins showed a keen interest in natural history. He wrote and encouraged many articles in this field in Our Rural Magazine, the monthly magazine for the correspondence students first compiled in 1926. In 1939 he was a Foundation Member of the WA Gould League and continued participating in this organisation until his death. Mr Eakins edited the League's annual magazine for 22 years and introduced The Gould Leaguer (which was first called The Bird Lover), as an information magazine. He organised the first Gould League Camp at Bickley in 1951 and helped plan the arbor and memorial at that camp site. His interest also extended to the displays at the Wildlife Show and the Royal Agricultural Show.
In association with Mr A.E. Williams, Mr Eakins wrote a comprehensive set of Social Studies text books for use in Australian schools. He was also responsible for the writing of a short history of the WA Correspondence School, a most detailed and interesting book. The story of correspondence learning in Western Australia is really the story of Mr Clarence Eakins, and his inspiration, doggedness and thoroughness should not be lost to us.
Clarence Eakins Award
In honour of the contributions Mr Eakins made to distance education from 1919 - 51, the Schools of Isolated and Distance Education provides a scholarship for a Year 10 distance education student going on to Years 11 and 12. The first recipient for this award was selected 1993.
Correspondence School Broadcasts
In 1940 lessons were broadcast to students as an adjunct to the normal teaching work. Prior to this time students listened to the general school broadcasts, but this new session was especially directed towards them. In the broadcasts students were able to hear some of their teachers' voices and were given instructions on their correspondence work. Subjects included craft work, reading, nature study and social studies.
Inland Route 1949 - 1950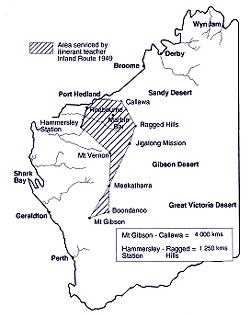 A second Itinerant Teacher's district was established in 1949 encompassing the lower Murchison, Upper Ashburton and the Pilbarra as far east as the Great Sandy Desert. Mr JRM Kenney had the task of establishing what was the World's largest "schoolroom" with only just over 40 pupils.
There were dangers. Once my vehicle broke a glass fuel filter bowl, and I was stranded 50 kms from either Mulgul or Mt Vernon Stations. I had been unable to tell Mr Vernon when I was coming. A leaking water tank meant that I could not sit it out until help came. The likelihood of covering 50 kms in the searing heat of summer was remote and the prospect of perishing - as so many others had done - from dehydration and thirst was a real threat. Taking what water I could I set out around sundown intending to walk only at night and rest up during the day, but I had only gone a few hundred yards when I found an old zinc ointment bottle near a long deserted camp site. It fitted the fuel filter assembly perfectly. This was the miracle I had prayed for!!

Hardly a week passed without some excitement outside of my work, but the following condensed information from my diary will give you some idea of what could involve the itinerant teacher.

Monday, 20 April

Left Meekatharra for Cardawan Station. Place appeared deserted but I heard a small child crying. Mrs Dawson, the Station owner's wife, was desperately ill. The pedal radio (RFDS) was out of action and likewise the truck. Located Mick Dawson, put a mattress in the utility for Mrs Dawson, and rushed her 256 kms to Meekatharra Hospital.

Tuesday, 21 April

Left Meekatharra early and drove straight through to Limestone Station, north of Marble Bar.

Wednesday, 22 April

While teaching the two Mallet children on the verandah, Mrs Mallet started to wash her husband's jacket in a bucket of petrol. Friction caused an explosion in the bucket and spraying petrol doused Mrs Mallet, who caught fire. Wrapped her in a blanket from a bed nearby, extinguished the fire in the bucket and rushed to Marble Bar Hospital.

Thursday, 23 April

Bought tubes and tyres and had vehicle serviced in Marble Bar. Mrs Mallet OK.

Friday, 24 April

Drove 65 kms to Bamboo Creek mining centre. (No bamboos and no creek). Had no sooner arrived than Glen Gibson, a parent, stumbled in, blood pouring down his face. A sliver of steel had broken off one of his tools and entered his eye. An hour later was back at Marble Bar Hospital.
Article and photographs supplied courtesy of JRM Kenney
Schools of the Air
To supplement the work of the Correspondence School, daily broadcast were introduced in 1940. Prior to that students listened to general school broadcasts as part of their weekly work. These new lessons were given by the teachers and were directly on the work being covered. This gave a greater feeling of cohesion to the school and levels of work improved dramatically.
Further use of radio in correspondence teaching was the establishment of the first official radio school in Western Australia at Meekatharra in 1959. The school utilised the Royal Flying Doctor Service's direct, two-way radio network for up to three hours a day, transmitting from a simple classroom in the town. A small, simply-operated transceiver was developed for the students' use. Mr J Smedley was the first teacher, with control of 27 students.
Following the success of the initial school at Meekatharra other schools were established: Derby, 1960 Kalgoorlie, 1962 Port Hedland, 1960 Carnarvon, 1968.
Correspondence for Years 11 and 12 Isolated Students Matriculation Project and Open Learning Matriculation Studies
The Isolated Students Matriculation Project (ISMP) was established in July 1974 to develop a school-based correspondence course for Year 11 and 12 students. The student lesson materials were known as the Open Learning Matriculation Studies (OLMS). The OLMS courses were based on the Resource Centre facilities of local schools and the student could either work at the Centres or at home.
Students could study English, Biology, Human Biology, Mathematics I, Mathematics IV, History, Art or Technical Drawing. These courses used printed and audio visual materials such as cassette players and film strips together with textbooks.
Isolated Students Matriculation Scheme (ISMS)The ISMP organisation and the OLMS lesson materials' names were changed to become the Isolated Students Matriculation Scheme (ISMS) in 1976. In 1983 ISMS became part of the Distance Education Centre.
Distance Education Centre
The Distance Education Centre was officially opened in 1983 by the Minister for Education, Robert Pearce MLC, when the WA Correspondence School, the Isolated Families Early Childhood Correspondence Scheme and the Isolated Students Matriculation Scheme were amalgamated to cater for Kindergarten to Year 12 distance education.
Schools of Isolated and Distance Education
In 1995 SIDE was formed through the amalgamation of the Distance Education Centre ( Leederville ) and the five Schools of the Air. The intent was to provide a more dynamic and responsive system for the delivery of schooling to remote and isolated students. The formation of SIDE in the mid 1990s coincided with the development of the internet and with it greater opportunities to improve how students learn in distance education. SIDE focused on a form of audiographic communication known as the Electronic Classroom (Telematics). Best described as an extension of audio teleconferencing using conventional telephone lines and computers to connect the teacher and the students. SIDE teacher and groups of students (at up to 5 centres at a time) saw, and manipulated, instantaneously the same graphic representations of their computer screens, and at the same time interacting verbally on the conference style, open telephone line.
At the same time the school was restructed into separate Middle and Post-Compulsory Schools. These schools operated in tandem from 2001-2005 when they were reamalgamated to form the current SIDE Secondary School.
The early 21st century saw SIDE make the move to online learning. Early work included providing email addresses to home based families and many projects occured to determine the best way forward. A significant change occured in 2004 when the HF radio network was retired ending a long and productive partnership with the RFDS. To replace the radio network, familes were provided with a satellite dish and computer by the Department of Education under the SatWeb project. Students joined lessons using web conferencing software. Initially, students could only talk to other SatWeb users but changes to the software in 2007 meant even the most isolated students could join interactive lessons with any other student working online regardless of location.
The first learning management system, Janison Toolbox, was introduced in 2003 which allowed courses to be posted online providing 24/7 access to curriculum materials. Changes to senior schooling and the introduction of WACE courses saw all upper secondary materials written for online delivery.
In 2009, SIDE began the move from Janison to Moodle, the open source course management software developed by Martin Dougiamas a former Kalgoorlie School of the Air student.
Significant changes since 2006 have resulted in SIDE moving from correspondence education to a fully online school offering students and teachers opportunities to work together collaboratively. Changes to the organisational structures in 2010 resulted in the separation of the Schools of the Air and SIDE, leaving two SIDE schools - the Primary and Secondary Schools both based in Leederville. Both schools were fully amalgamated in 2012, resulting in SIDE becoming one K-12 school.